What We Love | (Vital) Protein-Packed Chickpea Blondies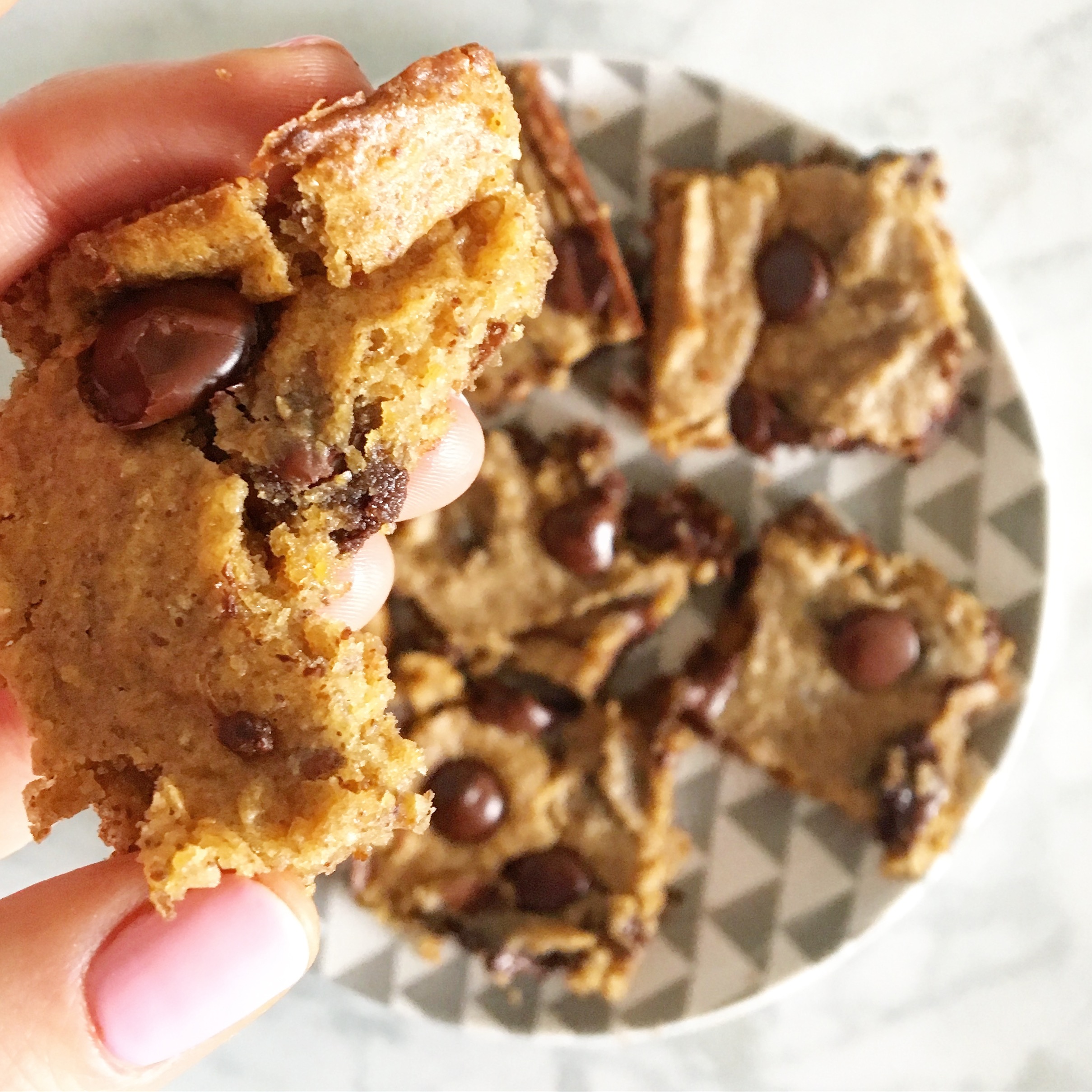 February is the month of love...
...and this month on the blog, we are discussing some of the wellness routines, healthy regimens, and industry trends that have our hearts. Last week, we each gave you a glimpse of how we stay fit with our favorite workouts. This week, we're talking nutrition, and we'll be posting some recipes we love, will discuss how to cook with love (what?), and some ideas for learning to love your (healthy) food.
So speaking of things we love, I have a confession to make. I just might..possibly...have a...slight...addiction to two things: almonds and chickpeas. Aside from the pounds of produce I somehow consume, the main staples in my diet are almond milk, almond butter, raw almonds, regular chickpeas, roasted chickpeas, hummus...you get the picture. For you religious readers out there - I've had to give up hummus and almond butter every year for the past 3 Lents - it's that bad.
So since Lent isn't for another two days, I decided to really go all out and do something crazy. COMBINE my two favorites into one delicious, incredible recipe that makes my mouth water as I write. I adapted this recipe from the lovely Ambitious Kitchen by adding a bit more protein and collagen (and thereby making it not vegan. Sorry).
Have you used collagen yet? We are big fans of Vital Proteins and try to incorporate some of their products into our daily routines (you can find some of our favorite products here). If you haven't read some of our other blog posts on collagen, here are a few facts you should know:
Collagen Peptides blend into anything, hot or cold! And when they say unflavored, they mean it. You can add a scoop to anything and won't taste a difference

It enhances hair, skin & nails: see Eli's post for proof

It improves digestion: Naturally occurring amino acids in collagen peptides provide a strong line of defense for your gut.

It boosts joint health: face your next Barry's Bootcamp like a champ!
With Vital Proteins Collagen always hand, I find myself tossing a scoop into a batter here and a coffee there. And I think it was the perfect addition to these Chickpea Blondies. Say hello to your new favorite protein-packed dessert:
WHAT YOU'LL NEED
1 can (15 oz) chickpeas, rinsed and drained

1/2 cup all natural almond butter (I made my own - want me to post the recipe?)

1/3 cup pure maple syrup, agave nectar, or honey (I used agave)

2 teaspoons vanilla

1/2 tsp Himalayan pink sea salt

1/4 teaspoon baking powder

1/4 teaspoon baking soda

1 tbsp ground flax

1/3 cup dark chocolate chips plus 2 tablespoons

Himalayan pink sea salt, for sprinkling
WHAT YOU'LL DO
Preheat oven to 350 degrees and spray 8x8 inch pan with nonstick cooking spray.

Add all ingredients except chocolate chips to a food processor and process until smooth. Fold in 1/3 cup of dark chocolate chips. Warning: the batter is super delicious; you could easily it it all on its own. Spread batter evenly in prepared pan then sprinkle 2 tablespoons of chocolate chips on top. Bake for 20-25 minutes or until toothpick comes out clean and edges are a tiny bit brown. They may look underdone, but that's how you know they're perfect

Cool pan for 20 minutes on wire rack. Sprinkle with sea salt then cut into squares. Makes 16 blondies (unless you've eaten most of the batter like I did).
Now excuse me while I go finish my batch before Lent begins...